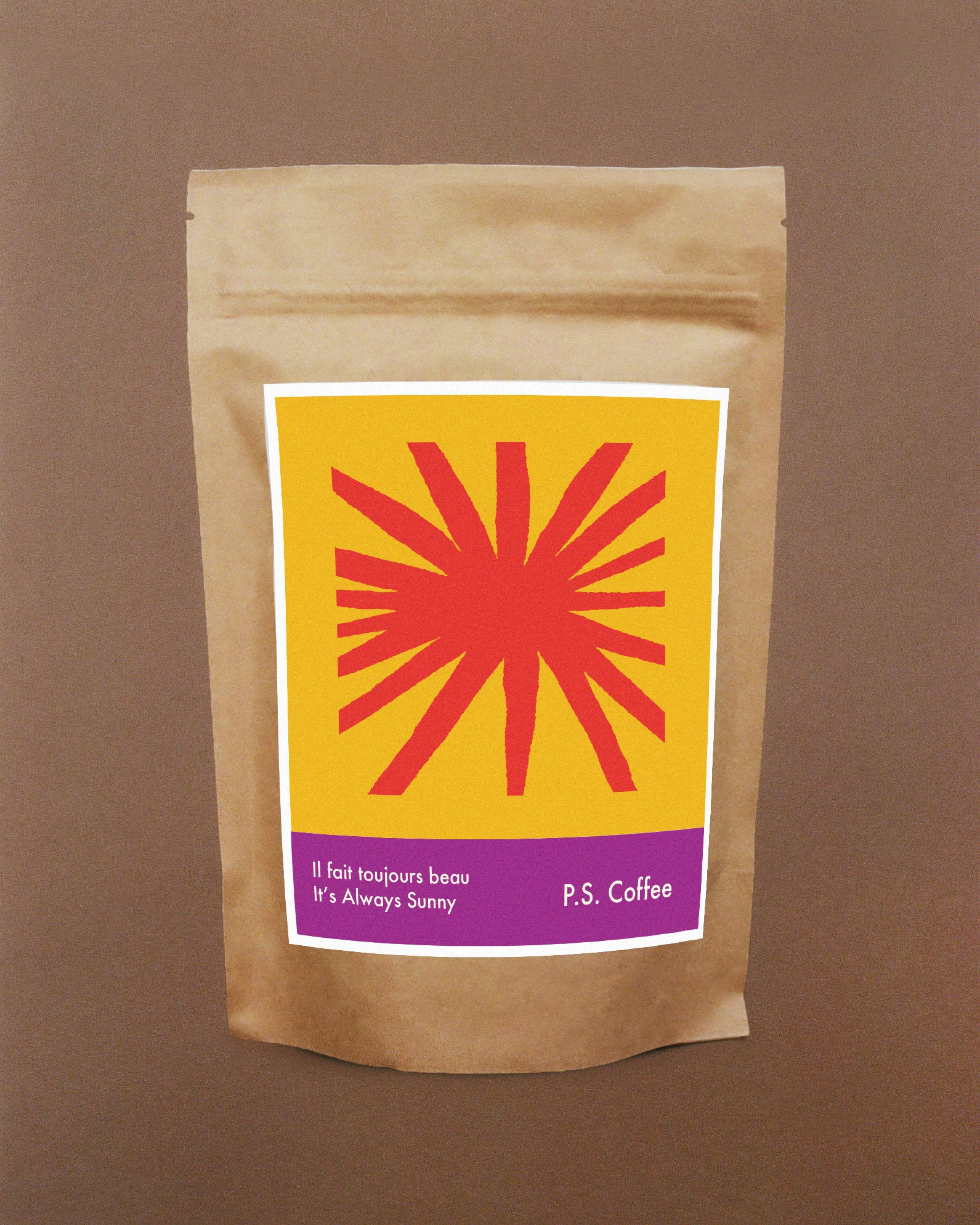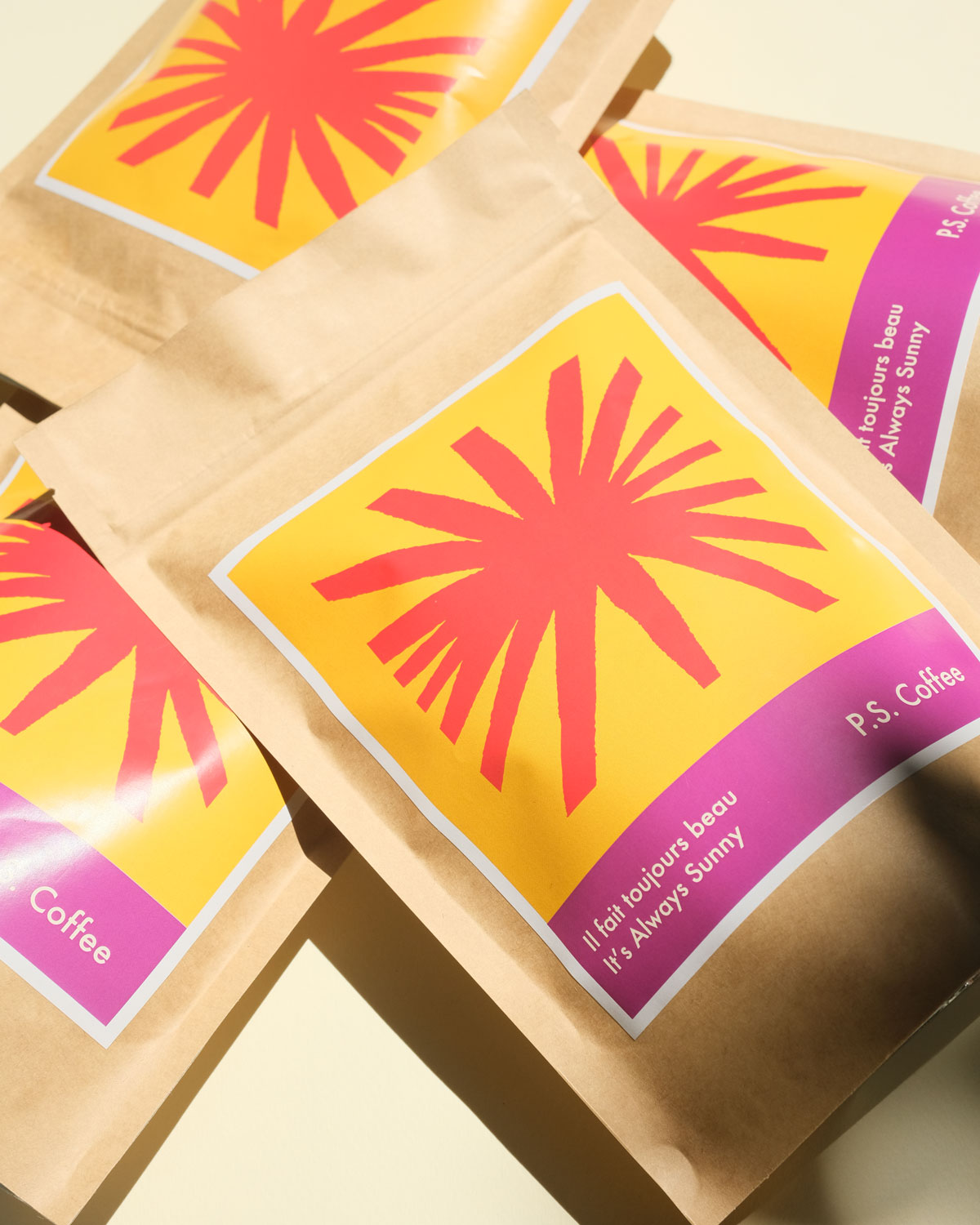 It's Always Sunny Blend | Colombia & Rwanda
Description
Angel Ortega's Washed Gesha & Ngoma Natural Red Bourbon
Miramar Farm, San Agustin, Huila, Colombia & Bushekeri Sector, Nyamasheke District, Western Province, Rwanda

This light and bright isn't just for the coffee purists. In this blend, we've combined Angel Ortega's impeccable Gesha together with a Rwandan natural lot to offer a loved-by-all cup that shines throughout. With a juicy backbone of ripe red grapes, smooth caramel and a touch of lime, It's Always Sunny can always be enjoyed by anyone, anytime.
Miramar Farm, San Agustin, Colombia
75% Angel Ortega's Washed Gesha
It's Always Sunny's juicy and ripe backbone comes from Angel Ortega's Washed Gesha. Angel is a second generation coffee grower from the storied San Agustin, Huila region who has been growing coffee since he was a teenager. He and his son Didier have an impeccable approach to processing that offers the ideal sweet profile for this blend.

The Gesha variety rose to prominence in Best of Panama auctions where it has landed astronomical prices that have set global record, and raised the attention of growers around the world. However, for smallholders, Gesha poses challenges. A delicate and low-producing tree, it can be very hard to reach the quality levels that some of the more monied farms in the world have achieved. Angel first planted Gesha in 2015, and then added more in 2019. This main harvest offering is one of his more substantial and yet produced a mere 210 kilos of green coffee from 2200 plants. For us, this is truly an honour to share with you as Angel continues to pursue heights most smallholders could only dream of.
Bushekeri Sector, Nyamasheke District, Western Province
25% Ngoma 'Intango' Natural
This natural lot from Baho's Ngoma washing station lends itself perfectly to this blend as it adds a touch of brightness. Always driven towards experimentation and pushing the envelope of Rwandese coffee, Emmanuel at Baho Coffee began trialling a process he calls Intango during the 2018 harvest. The name comes from an ancient Rwandese tradition in which fruit would be fermented in clay jars to create a potent elixir for warriors to consume in small doses prior to battle, as a means of drawing strength.
The Intango process is proudly exclusive to Baho Coffee in which top-quality cherries are tightly packed into sealed clay jars where they are left to ferment, undisturbed and under shade, for 48 - 100 hours. A low oxygen environment coupled with the unique material of the fermentation vessel combines to drastically change the flavours imparted into the seed. In our personal sensory experience, we've found that the Intango fermentation promotes high intensity and complexity of fruit flavours and sweetness in the coffee.
Baho's Ngoma washing station is located in the famed Nyamasheke district and set in one of the most stunningly beautiful locations, directly on the shores of Lake Kivu.
WHO MAKES P.S. COFFEE?
The P.S. Coffee menu is made possible by grower communities and smallholder farmers in Rwanda, Honduras, Colombia and Guatemala. Through our sourcing sister-company Semilla, we hold long-term and consensus based partnerships with producers that have had zero or limited access to or knowledge of the specialty market.

These skilled and passionate professionals are redefining coffee production within their growing regions that have historically been underserved and overlooked despite being within well-respected coffee producing countries. Through community support networks, access to knowledge and capital and investment into physical and intellectual infrastracture, they are transitioning towards autonomy and away from the exploitative model they've mostly always known.

These are the people and communities you'll meet through P.S. — and build connections with as we continue to support and purchase from them year after year.

Meet the P.S. Producer Network
HOW IS P.S. COFFEE SOURCED?
All of the coffee on the P.S. menu is exclusively sourced with Semilla Coffee through the following principles:

Durable Relationships
All of Semilla's relationships are formed with specific communities in underserved coffee growing regions within well-respected coffee production countries. Semilla identifies producer groups that have zero or limited access to or knowledge of the specialty market and takes on the requisite risk that comes with their transition into becoming specialty coffee producers with dedicated buyers across North America. Semilla's commitment is to work only within the bounds of these groups, seeking to grow with them in pursuit of purchasing all of their production, year after year.

Best Prices, Defined by Producers
All coffees purchased by Semilla are purchased at the best locally available price. This is determined via communication with and understanding of local market dynamics, and prices are arrived upon via a consensus model in which the coffee growers and Semilla agree democratically on the best prices for all involved.

Traceability and Transparency 
Semilla's commitment is to work with complete commitment to traceability and transparency along the value chain. This means full transparency of prices paid to the farmer (farmgate) as well as prices paid at port (FOB). Additionally, Semilla offers in depth information and context for each coffee, the producers who grew it, and the condition within which they work with each purchase. 

Quality 
Semilla exclusively works in the specialty coffee realm, meaning all of the coffees purchase are above the quality levels offered  by conventional commodity or Fair Trade and Organic buyers. Quality is determined in reference to the Specialty Coffee Association and Coffee Quality Institute's grading standards, with all coffees source for P.S. achieving a minimum of 85 points out of a possible 100. 
DO YOU HAVE THIRD-PARTY SUSTAINABILITY CERTIFICATION?
We are skeptic of most fair trade/organic/sustainability certifications. They often leave the financial burden on coffee producers who are, and let's be honest, not polluting anywhere near us folks in the Global North are.

Instead of focusing on these certification, we work towards a value system that uplifts everyone along the coffee supply chain. Through Semilla, our sourcing sister-company, we can connect directly with our coffee producer network to bring to life their ideas that come from, and work for, them towards a more sustainable, equitable value chain.